IN THE GARDEN of Eden, Eve plucked and ate a piece of fruit (Genesis 3:6). It was a small and simple act, but it brought untold disaster. It was not simply the act of picking fruit—it was a premeditated act of rebellion against God, and it brought upon humanity the curse under which we have lived ever since. Adam and Eve ate the forbidden fruit, they caused a rift between themselves and God and they became dying creatures.
Baptism
And people have been heard to ask, "What difference can being dipped in water make to anybody?" That is all baptism is: a dip under the water. The answer is that its whole significance is in the mind of the one who undergoes this small and simple act. It is a premeditated act of obedience to God. By it the individual becomes a member of God's family, and embarks on the way to eternal life.
The Apostle Paul explains:
Do you not know that all of us who have been baptized into Christ Jesus were baptized into his death? We were buried therefore with him by baptism into death, in order that, just as Christ was raised from the dead by the glory of the Father, we too might walk in newness of life. For if we have been united with him in a death like his, we shall certainly be united with him in a resurrection like his. We know that our old self was crucified with him in order that the body of sin might be brought to nothing, so that we would no longer be enslaved to sin. For one who has died has been set free from sin. Now if we have died with Christ, we believe that we will also live with him (Romans 6:3–8).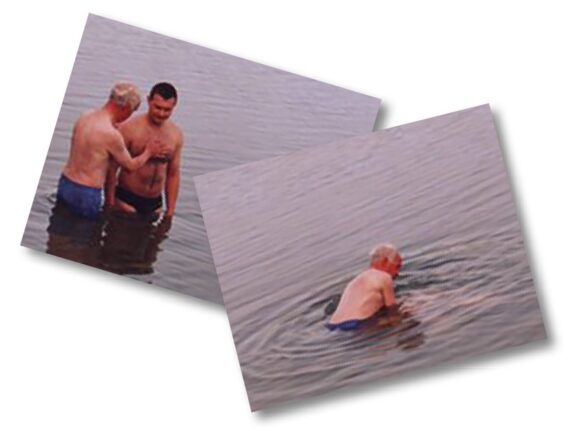 Baptism is an act by which we die. We declare that we deserve to die because we are a child of Adam, but we want to live as a child of God. So we do what Jesus Christ showed us, when he laid down his mortal life and was raised by God to be given immortality. As we are dipped under the water, we show that we want to put to death our old self, and take on a new life.
We come out of the water the same person, with the same nature and the same brain and the same faults and weaknesses, but we have now commenced a new life. God is now our Father, for the act seen on earth has also been seen in heaven.
If God is for us, who can be against us? He who did not spare his own Son but gave him up for us all, how will he not also with him graciously give us all things? Who shall bring any charge against God's elect? It is God who justifies. Who is to condemn? Christ Jesus is the one who died—more than that, who was raised—who is at the right hand of God, who indeed is interceding for us. Who shall separate us from the love of Christ? (Romans 8:31–35).
Baptism is an act of total commitment or it is nothing. It is an act neither of heroism nor of humiliation, but of repentance and gratitude, of submission and confident expectation. Thereafter no release is possible. We have entered the hugely privileged relationship to Christ of a brother or sister, an heir of what God Himself has promised.
For in Christ Jesus you are all sons of God, through faith. For as many of you as were baptized into Christ have put on Christ. There is neither Jew nor Greek, there is neither slave nor free, there is no male and female, for you are all one in Christ Jesus (Galatians 3:26–28).
Bread and Wine
When we belong to Christ, we are entitled to sit at his table. We share in the feast that he prepared (Luke 22:14–20). We share with our brothers and sisters a loaf of bread, which speaks of his body given in sacrifice—and also of the body of believers, of which he is the head and we are all together members, knit together in love (Ephesians 4:15–16). And we share a cup of wine, which speaks of his blood poured out in sacrifice—and also of the covenant by which we have received forgiveness of our sins (Hebrews 9:11–22).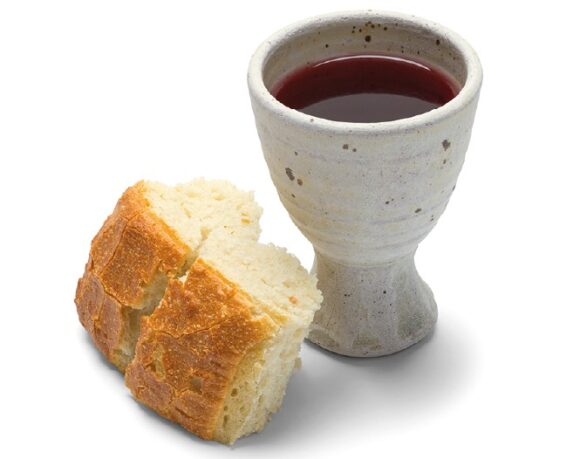 The new life, which begins with the simple act of baptism and is reaffirmed by the simple ritual of bread and wine, may seem completely unremarkable to the onlooker. But to the believer it is full of wonder.
See what kind of love the Father has given to us, that we should be called children of God; and so we are. The reason why the world does not know us is that it did not know him. Beloved, we are God's children now, and what we will be has not yet appeared; but we know that when he appears we shall be like him, because we shall see him as he is (1 John 3:1–2).
Denis Jackson