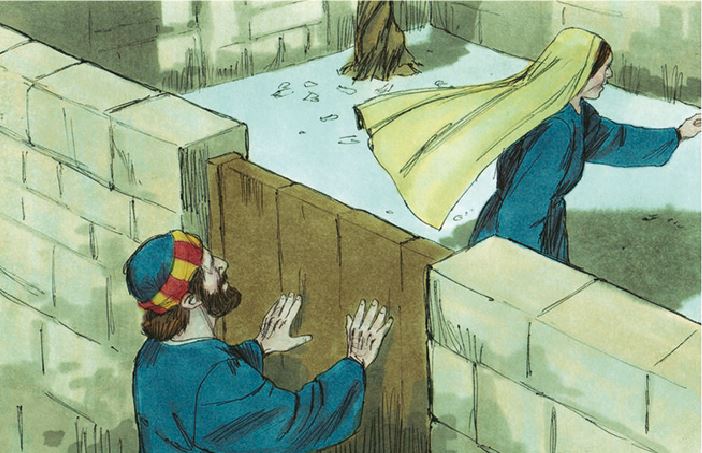 THERE WAS A LARGE GROUP of them gathered together in a house, but this was no party. None of them smiled; some looked frightened and it was clear that they hadn't slept for some time. They had come together to pray, and had been doing so for hours. Sometimes they prayed in silence and sometimes one of them tried to put into words what they were all thinking.
It was the middle of the night. When the knock came, they all froze. After a pause, a girl went to see who was there. Before she could open the door, she heard a familiar voice from outside. Instead of opening up, she dashed back to the others waiting in the house. "Rhoda, what is it?", asked one of them. She was grinning from ear to ear and could hardly speak. "It's Peter!" she gasped. The others shook their heads sadly. It couldn't be Peter. He was in prison, due to be executed the next day. That was why they had gathered together to pray for him. But the knocking continued.
Rhoda wouldn't be silenced. "It is! It's him! Come and see!" she shouted, grabbing hold of the nearest arm. When they reached the entrance, they could hear laughter. Drawing back the bolts, they opened the heavy wooden door and there was Peter, looking highly amused. "Didn't you think your prayers might be answered?"
You can read the full story in Acts chapter 12. Many times in the Bible we read of people praying. Their despair, joy, fear, trust, hope or gratitude come across clearly. It is never the wrong time to pray. But we can't assume that God's answer will be "yes" all the time, which is why some think praying is a waste of time.
Think of it as a parent knowing what their child needs. Sometimes the child asks for things that would be a bad idea. They don't like it when the answer is "no", but the parent is actually showing love by denying the request. God's answer might not be what we expect. But hindsight will reveal that He has cared for us, even through the darkest times.

Rachel Leah