KING DAVID of Israel was arguably the greatest king the world has yet seen. Not because of the extent of his kingdom or the greatness of his wealth, but because of the attitude he had.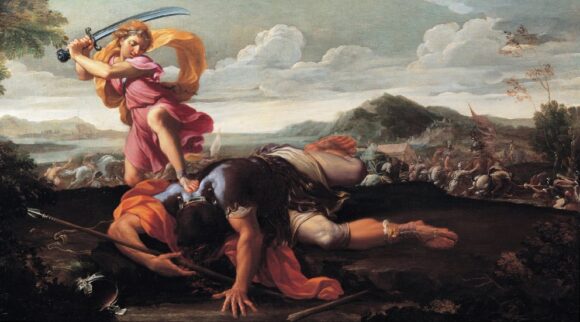 David was the son of a farmer, and he spent his youth tending sheep in the wild and dangerous hill country around Bethlehem. It was an upbringing that made him courageous, resourceful and deeply caring.
You may be familiar with the account of his victory over the Philistine giant Goliath, which propelled him into a position of command in the Israelite army when he was still young (1 Samuel 17).
He established himself as a capable commander who inspired the affection and loyalty of his men: 'All Israel and Judah loved David, for he went out and came in before them' (1 Samuel 18:16). That term 'went out and came in' is shepherding language—he led his soldiers from the front, sharing in their dangers and hardships and caring for them as he had for his flock in the Judean hills.
It wasn't long before King Saul grew madly jealous of David, perceiving that he was a threat to his throne. David had to flee for his life. He and 400 loyal men became outlaws (1 Samuel 22). The remainder of the book of 1 Samuel contains the account of Saul's increasingly desperate attempts to destroy David. But it ends with Saul's death in battle against the Philistines.
The Shepherd King
2 Samuel is the account of David's rise to the throne and his long glorious reign. He ruled for seven years in Hebron during a period of civil war against Saul's son, then the time came for him to take the throne of the entire kingdom.
Then all the tribes of Israel came to David at Hebron and said, "Behold, we are your bone and flesh. In times past, when Saul was king over us, it was you who led out and brought in Israel. And the Lord said to you, 'You shall be shepherd of my people Israel, and you shall be prince over Israel'" (2 Samuel 5:1–2).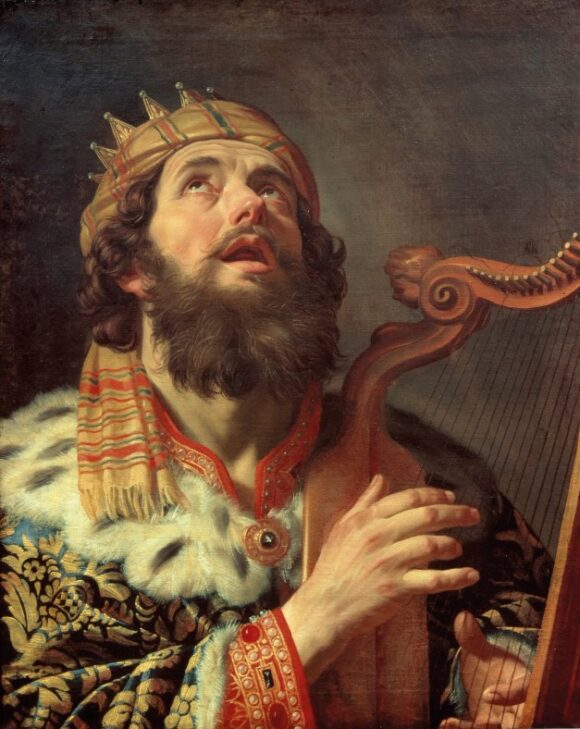 So David became the shepherd king. The qualities which he developed as a shepherd, and honed as a military leader, equipped him for his illustrious reign. In contrast to his power-corrupted predecessor Saul, throughout his reign David saw his role as tending, nurturing and protecting his people (2 Samuel 24:17).
He was also a musician. He was skilled at the lyre (1 Samuel 16:23), and many of the Psalms in the Bible are his.
But he was not just a military hero, benign monarch and supremely gifted musician. The thread that runs through his life is his absolute faith in God. It was God Who strengthened him to defend his flock and fight his battles: 'The Lord who delivered me from the paw of the lion and from the paw of the bear will deliver me from the hand of this Philistine' (1 Samuel 17:37). It was God's Law that gave him the wisdom to reign: 'I delight to do your will, O my God; your law is within my heart' (Psalm 40:8). And it was God Who inspired him to write his songs. This is the beginning of his final Psalm, which he wrote in his old age:
Now these are the last words of David: The oracle of David, the son of Jesse, the oracle of the man who was raised on high, the anointed of the God of Jacob, the sweet psalmist of Israel: "The Spirit of the Lord speaks by me; his word is on my tongue. The God of Israel has spoken; the Rock of Israel has said to me: When one rules justly over men, ruling in the fear of God, he dawns on them like the morning light, like the sun shining forth on a cloudless morning, like rain that makes grass to sprout from the earth" (2 Samuel 23:1–4).
The Good Shepherd
Perhaps David's most famous song is Psalm 23. In this Psalm he muses on the job of the shepherd. Perhaps he wrote it in his youth, during long nights alone under the stars guarding his flock. But in this Psalm he sees himself as the sheep, and he recognises that God is his shepherd.
He observes the sheep in his care. He knows where the pastures are, they will never go hungry (v. 2); he tends them when they're hurt and retrieves them when they wander off (v. 3); he can lead them through the desert's dark hazardous ravines, his weapons always at hand to fend off anything that might attack (v. 4). As long as they know he's there, they're content and at ease because they have absolute trust in him.
Certainly one of the reasons for the enduring appeal of this beautiful Psalm is that every believer can recognise in it their own life, and their own relationship with their God.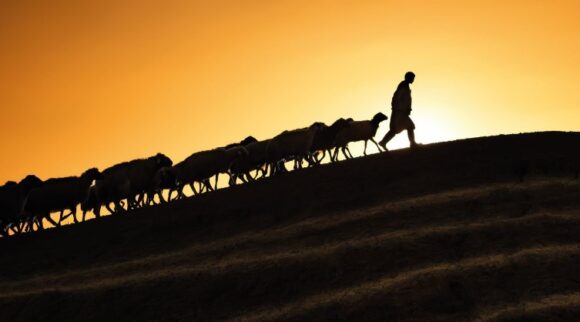 Psalm 23
A Psalm of David.
The Lord is my shepherd; I shall not want.
He makes me lie down in green pastures. He leads me beside still waters.
He restores my soul. He leads me in paths of righteousness for his name's sake.
Even though I walk through the valley of the shadow of death, I will fear no evil, for you are with me; your rod and your staff, they comfort me.
You prepare a table before me in the presence of my enemies; you anoint my head with oil; my cup overflows.
Surely goodness and mercy shall follow me all the days of my life, and I shall dwell in the house of the Lord for ever.