AS A LOVING FATHER, God cares deeply about the wellbeing of His children. Within the Bible He has provided wise counsel to assist with all the problems of our lives. One of the major problems that afflicts many people is that of anxiety and worry.
I am not saying that if you have a problem with anxiety, the Bible is necessarily all you need. Some problems require the assistance of medication or therapy. Reading the Bible will not solve a mental health problem, any more than it will treat a broken leg. The Bible does not deal with mental health, but it does deal with spiritual health. Attention to your spiritual health will solve many of your problems, and help with them all. And attention to your spiritual health will not just benefit you in this life, but it can equip you for eternal life!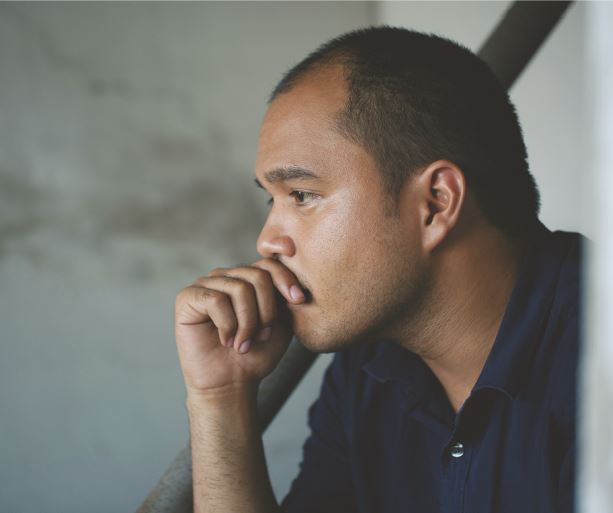 What Is Anxiety?
You may be familiar with the term 'anxiety', but what actually is it? One textbook definition of this curious ailment is: 'A sense of apprehension or doom that is accompanied by many physiological reactions, such as accelerated heart rate, sweaty palms and tightness in the stomach.'* Textbook definitions can be very helpful but a real-life example from the Bible will serve to demonstrate what anxiety is all about.
The Apostle Paul's life involved a tremendous amount of suffering, which he summarised in his second letter to the Corinthians:
In labours more abundant, in stripes above measure, in prisons more frequently, in deaths often. From the Jews five times I received forty stripes minus one. Three times I was beaten with rods; once I was stoned; three times I was shipwrecked; a night and a day I have been in the deep; in journeys often, in perils of waters, in perils of robbers, in perils of my own countrymen, in perils of the Gentiles, in perils in the city, in perils in the wilderness, in perils in the sea, in perils among false brethren; in weariness and toil, in sleeplessness often, in hunger and thirst, in fastings often, in cold and nakedness— besides the other things, what comes upon me daily: my deep concern for all the churches (2 Corinthians 11:23–28).
Paul had enormous concern for all the different Christian congregations and he described it as a 'daily pressure'. The fact that this was included at the end of such a staggering list of hardships demonstrates just how significant this pressure was in his life. It also demonstrates that anxiety is not always a bad thing—it wasn't that Paul was doing anything wrong, quite the opposite in fact! Anxiety can be experienced as an unfortunate side-effect of our concern for others—it could therefore be described as 'the high cost of compassion'. This 'positive anxiety' is not necessarily a problem, but it can become one.
Jesus Christ demonstrated how to deal with this kind of anxiety:
Great multitudes came together to hear, and to be healed by him of their infirmities. So he himself often withdrew into the wilderness and prayed (Luke 5:15–16).
He would take time out to replenish his spiritual reserves through solitude and prayer.
Although anxiety isn't always problematic, the wrong type of anxiety can have a seriously detrimental effect on us. What guidance is there in the Bible to help us alleviate this type of 'negative anxiety'?
Good Words
Anxiety in the heart of man causes depression, but a good word makes it glad
(Proverbs 12:25).
What we would describe as 'the mind' is often described in the Bible as 'the heart' (see Genesis 6:5 and Luke 9:47 for examples of this). The proverb says anxiety causes 'depression'. In extreme cases anxiety can be a cause of clinical depression, which is a medical condition that requires medical treatment. But the proverb is speaking more widely about an experience we all know. We know what it is to be 'depressed'—pressed down. To have a 'weight on our mind'. How can this grievous weight be lifted from us? The second part of the proverb has the answer: 'a good word makes it glad'. What we are being taught is that words have the power to make us glad —the very antithesis of feeling anxious.
The obvious place to look for 'good words' is in the Bible itself. When we listen to or read from the Bible, we will frequently encounter inspiring exhortations, which turn our attention away from our anxious thoughts and elevate our minds on to divine subject matter. The following 'good words' are a vision of the future Kingdom of God on earth, and were specifically designed for those with 'anxious hearts':
Strengthen the weak hands, and make firm the feeble knees. Say to those who are fearful-hearted, "Be strong, do not fear! Behold, your God will come with vengeance, with the recompense of God; He will come and save you." Then the eyes of the blind shall be opened, and the ears of the deaf shall be unstopped. Then the lame shall leap like a deer, and the tongue of the dumb sing. For waters shall burst forth in the wilderness, and streams in the desert… And the ransomed of the Lord shall return, and come to Zion with singing, with everlasting joy on their heads. They shall obtain joy and gladness, and sorrow and sighing shall flee away
(Isaiah 35:3–6, 10).
'Good words' can also be spoken or written by friends or family, and for those who are baptised members of God's household good words will be offered by their brothers and sisters in Christ. These words may take the form of advice forged by personal experiences, or a quotation from an appropriate Bible passage. Sometimes when we are told that we are in someone else's prayers, such 'good words' can have a significant effect on reducing our anxiety levels.
Prayer
This leads us to a very important gift we have been given to counteract anxiety: the gift of prayer.
Therefore humble yourselves under the mighty hand of God, that He may exalt you in due time, casting all your care upon Him, for He cares for you (1 Peter 5:6).
God wants His children to 'cast their care' upon Him, through the medium of prayer. Telling their heavenly Father how they are feeling is an important part of discipleship as it demonstrates the intimacy of their relationship with Him. We should not doubt that the all-powerful Creator of the universe does want to hear about our problems:
If I say, "My foot slips," Your mercy, O Lord, will hold me up. In the multitude of my anxieties within me, Your comforts delight my soul (Psalm 94:19).
Casting our anxiety on to God through prayer can have the effect of lifting the weight from off our minds, in the sure knowledge that whatever is troubling us is now in the loving hands of the God of all comfort.
The Ultimate Example
The greatest example of prayer in the midst of extreme anxiety is, of course, the Lord Jesus Christ. The Lord, very understandably, had a strong 'sense of apprehension or doom' as he approached the time of his crucifixion. The excruciating anxiety which Christ experienced as he awaited his arrest in the garden of Gethsemane is captured in very moving Gospel records such as the following, from Luke's account:
And he was withdrawn from them about a stone's throw, and he knelt down and prayed, saying, "Father, if it is Your will, take this cup away from me; nevertheless not my will, but Yours, be done." Then an angel appeared to him from heaven, strengthening him. And being in agony, he prayed more earnestly. Then his sweat became like great drops of blood falling down to the ground
(Luke 22:41–44).
It is suggested that Jesus at this moment experienced 'hematidrosis', a rare condition brought on by extreme stress in which the sufferer literally sweats blood. Even in such indescribable distress, Jesus prayed to his heavenly Father.
This awe-inspiring example demonstrates in the most emotive way the necessity of praying to God when we are feeling anxious. It may be that we won't feel like praying when we feel anxious but, as always, Jesus sets us the example by praying the most fervently even when he was suffering the most.
Conclusion
We cannot expect our lives to be free from anxiety. We have seen the magnificent examples of the Apostle Paul and the Lord Jesus Christ himself, and how they dealt with it.
We've seen some of the key factors which can boost our spiritual health—taking our anxieties to God in prayer, dwelling on His good words, and sharing our anxieties with others.
Finally, what could be more positive than this encouragement by the Apostle Paul:
Be anxious for nothing, but in everything by prayer and supplication, with thanksgiving, let your requests be made known to God; and the peace of God, which surpasses all understanding, will guard your hearts and minds through Christ Jesus (Philippians 4:6–7).
Stephen Blake