THERE IS one God, and He is supreme. This is stressed throughout the Bible.
Moses said: "To you it was shown, that you might know that the LORD Himself is God; there is none other besides Him" (Deuteronomy 4:35).
King David said: "Yours, O LORD, is the greatness, the power and the glory, the victory and the majesty; for all that is in heaven and in earth is Yours"
(1 Chronicles 29:11).
Jesus Christ said: "The first of all the commandments is: 'Hear, O Israel, the Lord our God, the Lord is one'" (Mark 12:29).
You could also look at Isaiah 42:8, 45:5; John 17:3; 1 Corinthians 8:6; Ephesians 4:6; 1 Timothy 2:5, and many other passages.
God Is Love
Something else that is stressed throughout the Bible is the love of God. God's love for those who seek Him is far, far above our ability to love—but He wants us to return His love as much as we are able. This was the fundamental instruction to the nation of Israel at the beginning of their history: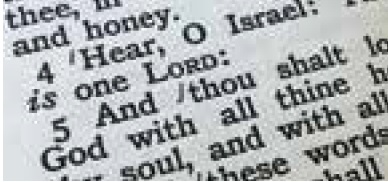 Hear, O Israel: The LORD our God, the LORD is one! You shall love the LORD your God with all your heart, with all your soul, and with all your strength (Deuteronomy 6:4–5).
And to the Christians the Apostle John explained that love for God leads to love for our fellows:
Beloved, let us love one another, for love is of God; and everyone who loves is born of God and knows God… In this is love, not that we loved God, but that He loved us and sent His Son to be the propitiation for our sins. Beloved, if God so loved us, we also ought to love one another (1 John 4:7–11).
Communion
The love of God finds expression in the high point of faith, the simple ceremony which Christians call the 'breaking of bread', or 'communion' because it is an act of union with God and His son Jesus Christ. The Bible also calls it the 'love feast' (Jude :12).
And we are given a promise that for those who faithfully seek it now, there will be perfect union with God in His Kingdom:
Behold what manner of love the Father has bestowed on us, that we should be called children of God!… Beloved, now we are children of God; and it has not yet been revealed what we shall be, but we know that when He is revealed, we shall be like Him, for we shall see Him as He is (1 John 3:1–2).
Denis Jackson