THE PROPHET ELIJAH had a very important role to play in the purpose of God. He was involved in great spiritual victories and possessed many godly qualities which are an example for us. However, he was not perfect, he was just like us: 'Elijah was a man with a nature like ours' (James 5:17). There was a time when Elijah reached a point of loneliness and despair in his life. He felt that his life was no longer worth living. In order to help him through, God gave him a powerful, hard- hitting lesson. There are no doubt times in our lives when Elijah's desperate cries of 'I, even I only, am left' resonate with how we are feeling. Thankfully, the chastening lesson which God taught Elijah has been left on record for us to learn too.
Spiritual Victory
The great spiritual victory for which Elijah is famous is the 'contest' between the prophets of God and the prophets of the Canaanite god Baal on Mount Carmel (1 Kings 18).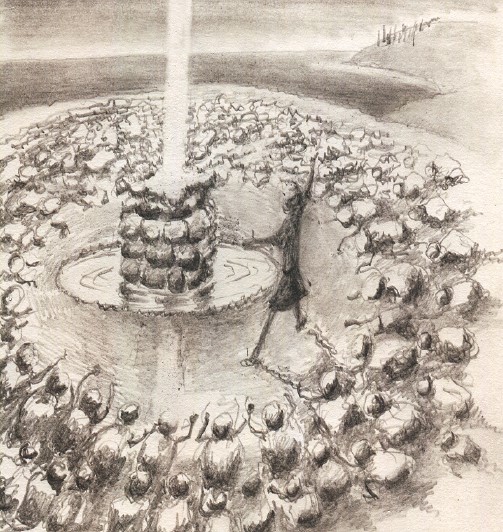 This involved the Lord convincing the nation that He is the only God (1 Kings 18:37); it involved the execution of the prophets of Baal (1 Kings 18:40), and culminated with the Lord sending rain upon the land for the first time in three and a half years (1 Kings 18:45, James 5:17). Throughout all this, Elijah was God's faithful servant, obediently carrying out His purpose in exemplary fashion. It was all going so well!
However, when King Ahab reported what had happened to his wife Jezebel, the situation changed dramatically:
Ahab told Jezebel all that Elijah had done, and how he had killed all the prophets with the sword. Then Jezebel sent a messenger to Elijah, saying, "So may the gods do to me and more also, if I do not make your life as the life of one of them by this time tomorrow" (1 Kings 19:1–2).
Jezebel was a very powerful woman so her threat against the life of Elijah was by no means hollow. She had killed other prophets of the Lord (1 Kings 18:4) so Elijah had good reason to feel the way he did about her threat. 'Then he was afraid, and he arose and ran for his life' (1 Kings 19:3). This fear drove Elijah to hide from Jezebel in the wilderness, where his spiritual state of mind took a turn for the worse: 'But he himself went a day's journey into the wilderness and came and sat down under a broom tree. And he asked that he might die, saying, "It is enough; now, O Lord, take away my life, for I am no better than my fathers"' (v. 4). In such a short space of time Elijah's life had changed from triumphantly taunting the prophets of Baal (1 Kings 18:27) to hiding in the wilderness and asking God to take his life. How did God respond to His prophet's despairing plea for death?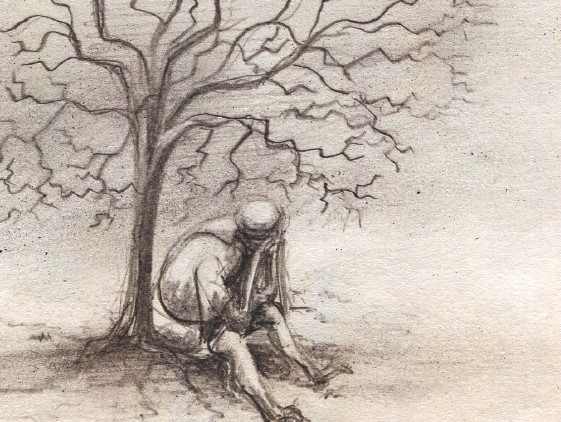 Spiritual Crisis
And he lay down and slept under a broom tree. And behold, an angel touched him and said to him, "Arise and eat." And he looked, and behold, there was at his head a cake baked on hot stones and a jar of water. And he ate and drank and lay down again. And the angel of the Lord came again a second time and touched him and said, "Arise and eat, for the journey is too great for you" (1 Kings 19:5–7).
God sent an angel who comfortingly touched Elijah and invited him to eat and drink. Elijah had miraculously been provided for previously at the brook Cherith (1 Kings 17:4–6), and now God graciously provided for His prophet again. God had planned a journey for him. It was too great for Elijah to undertake in his own strength, so God provided sustenance. As the Apostle Paul said, 'I can do all things through him who strengthens me' (Philippians 4:13). Elijah 'went in the strength of that food forty days and forty nights to Horeb, the mount of God' (1 Kings 19:8). Mount Horeb is none other than Mount Sinai, where Moses received the Law from God.
These details are the first indicators that Elijah was going to follow in the footsteps of Moses: the phrase 'forty days and forty nights' points us back to Moses (Exodus 24:18, 34:28), as does the phrase 'Horeb, the mountain of God' (Exodus 3:1, 24:13). What Moses-like experience awaited Elijah at Horeb?
Firstly, God asked Elijah the question, 'What are you doing here, Elijah?' (1 Kings 19:9). When the all-knowing God asks a question, it is not because He doesn't know the answer! This was for Elijah's benefit—to give him an opportunity to voice his complaint to God:
He said, "I have been very jealous for the Lord, the God of hosts. For the people of Israel have forsaken your covenant, thrown down your altars, and killed your prophets with the sword, and I, even I only, am left, and they seek my life, to take it away" (1 Kings 19:10).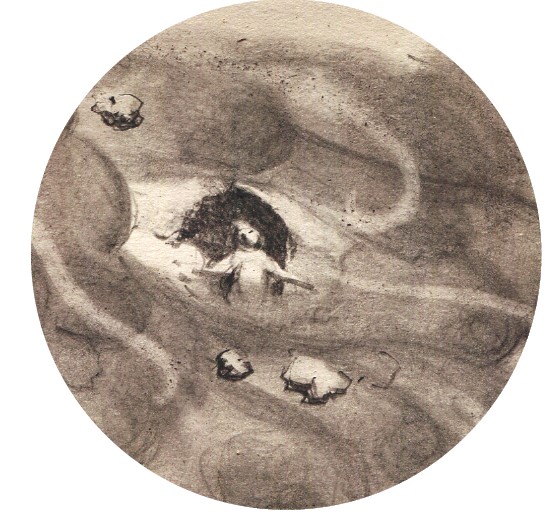 Elijah's first statement was indeed accurate —who could deny that Elijah had been very zealous for the Lord? However, what followed involved distancing himself from his brothers—instead of saying 'we have forsaken your covenant and thrown down your altars…' he said 'they have forsaken your covenant and thrown down your altars…' This is authoritatively interpreted for us by the Apostle Paul as 'appealing to God against Israel' (Romans 11:2). An excellent contrast to Elijah's negative spirit is found in Daniel's prayer (Daniel 9:4–19). Daniel prays to God about the sins of his people (in which Daniel has had no part), but the words "we" and "us" occur repeatedly. Daniel implicates himself in the sins of the people— his people—whereas Elijah does not. How did God answer Elijah's complaint?
And he said, "Go out and stand on the mount before the Lord." And behold, the Lord passed by, and a great and strong wind tore the mountains and broke in pieces the rocks before the Lord, but the Lord was not in the wind. And after the wind an earthquake, but the Lord was not in the earthquake. And after the earthquake a fire, but the Lord was not in the fire. And after the fire the sound of a low whisper (1 Kings 19:11–12).
Elijah and Moses
In this experience, there are distinct echoes of an experience Moses had in the same wilderness, a thousand years previously. Exodus 33–34 relates how Moses had a crisis of confidence as he was leading the Israelites towards the Promised Land. He asked to see God, and God showed him.
It's fascinating to compare that incident with this one.
God told Elijah to 'stand on the mount'; likewise, when Moses asked to see God's glory, he was told to 'stand on the rock' (Exodus 33:21). The Lord passed by Elijah, just as He did when He declared His name to Moses (Exodus 33:22). Truly this was Elijah's 'Moses moment', but what was the lesson God was teaching him? It is heavily implied (though not explicitly stated) that the Lord was in the 'low whisper'. This is so powerful because He was not in the wind, earthquake or fire. Perhaps God was teaching Elijah that being His servant, executing His will and showing people the meaning of His name is not solely about epic displays of His power and zeal (such as had happened at Mount Carmel); sometimes it is about quieter, gentler tasks. What effect did this experience have on Elijah?
And when Elijah heard it, he wrapped his face in his cloak and went out and stood at the entrance of the cave. And behold, there came a voice to him and said, "What are you doing here, Elijah?" He said, "I have been very jealous for the Lord, the God of hosts. For the people of Israel have forsaken your covenant, thrown down your altars, and killed your prophets with the sword, and I, even I only, am left, and they seek my life, to take it away" (1 Kings 19:13–14).
God asked Elijah the same question as He had asked him before, and Elijah stubbornly gave the same answer as he did before! Again he stated his conviction that 'I only am left'. This may have been how Elijah felt, but was it true? Elijah was aware that the prophet Obadiah had hidden 100 prophets of the Lord from Jezebel (1 Kings 18:13), so there were at least 101 others like Elijah who had remained faithful. It transpires that there were far more than 101. As God said, 'Yet I will leave seven thousand in Israel, all the knees that have not bowed to Baal, and every mouth that has not kissed him' (v. 18). From Elijah's distorted perspective he was the only one left. From God's all-seeing perspective there were 7,000 who were left! In time, Elijah was going to be replaced: 'Elisha the son of Shaphat of Abel-meholah you shall anoint to be prophet in your place' (v. 16). God's purpose would continue with his successor—the ultimate disproof of Elijah's argument that he alone was left—and meanwhile Elijah would have a companion who would work with and learn from him.
Lesson For Us
The point of this exercise is not so we can sit back and think "Elijah really got it wrong, didn't he!" We should recognise that he was just like us. The baptised believer is a member of God's family. 'We, though many, are one body in Christ, and individually members one of another' (Romans 12:5). Sometimes, inevitably, fellow believers do wrong things. It's tempting to stand back and say "They have done this, they have done that…" But this is to be in danger of 'appealing to God against them' (Romans 11:2). A better attitude is the one Daniel had: 'We have sinned and done wrong…' (Daniel 9:12).
Sometimes the circumstances of life have such an impact upon us that we can get blindsided with regards to the reality of the situation. Elijah's life was under threat and, as if that wasn't enough, he was understandably despondent with the spiritual state of his nation. But God assured him that there was still a remnant who shared his faith. That will always be the case (see Malachi 3:17–18). And beside that, God Himself would always be with him.
Stephen Blake