ABIGAIL stands out in the Bible as an example of wisdom, humility and courage. There are many practical lessons we can learn from her story, and she also provides an inspiring parable of the relationship between the Lord Jesus and his followers.
David had been anointed as future King of Israel by God's prophet, but he was on the run from the present king Saul.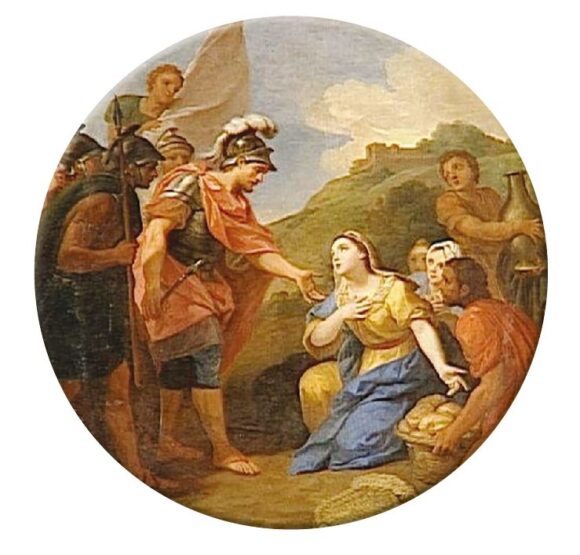 In 1 Samuel 25 we see David and his men in the wilderness of Carmel. They found themselves neighbours to the sizeable flocks of a man called Nabal, and they made it their business to look out for Nabal's shepherds and keep the sheep from harm. At the time of the shearing celebrations David sent to Nabal with the request, "Please give whatever comes to your hand to your servants and to your son David" (v. 8). It was a reasonable request, but Nabal cantankerously refused.
Nabal is presented as a contrast to his wife Abigail: "She was a woman of good understanding and beautiful appearance; but the man was harsh and evil in his doings" (v. 3).
Nabal had no regard for David as a neighbour, or for the fact that he was the one whom God had chosen to be king (1 Sam 16). In short, Nabal had no regard for the promises of God. This sharply contrasts with Abigail, who understood, believed and acted upon the promises God had made to David.
When David's messengers returned with the news that Nabal had snubbed his request for a gift, David rashly ordered his men to prepare for a fight (v. 13). Nabal was feasting and drinking himself senseless, but his servants came and told Abigail. She immediately acted to save the household. She gathered together a gift for David and his men and went to meet him (vs. 18–19).
Now when Abigail saw David, she dismounted quickly from the donkey, fell on her face before David, and bowed down to the ground. So she fell at his feet and said: "On me, my lord, on me let this iniquity be!
And please let your maidservant speak in your ears, and hear the words of your maidservant. Please, let not my lord regard this scoundrel Nabal… Now therefore, my lord, as the Lord lives and as your soul lives, since the Lord has held you back from coming to bloodshed and from avenging yourself with your own hand, now then, let your enemies and those who seek harm for my lord be as Nabal… Please forgive the trespass of your maidservant. For the Lord will certainly make for my lord an enduring house, because my lord fights the battles of the Lord, and evil is not found in you throughout your days. Yet a man has risen to pursue you and seek your life, but the life of my lord shall be bound in the bundle of the living with the Lord your God; and the lives of your enemies He shall sling out, as from the pocket of a sling. And it shall come to pass, when the Lord has done for my lord according to all the good that He has spoken concerning you, and has appointed you ruler over Israel, that this will be no grief to you, nor offence of heart to my lord, either that you have shed blood without cause, or that my lord has avenged himself. But when the Lord has dealt well with my lord, then remember your maidservant" (vs. 23–31).
Because of Abigail's discernment and courage she kept David from wrongly executing vengeance. Notice how she humbly acknowledged that "the Lord has held you back from coming to bloodshed". Notice too her confidence in God's purpose with David, "the Lord will certainly make for my lord an enduring house". And notice the way she described herself and David: she repeatedly referred to him as her lord, and to herself as his maidservant. This was not an empty cry of "Lord, lord!" (Matthew 7:21) —it was a declaration of allegiance to the future king.
Nabal died shortly afterwards, possibly of a stroke (vs. 37–38). When David heard of it he sent to ask Abigail to marry him (v. 39). Again we see the humility of this wealthy and powerful woman: she left to join David, attended by five of her own servants, declaring "Here is your maidservant, a servant to wash the feet of the servants of my lord" (vs. 41–42).
One of the pictures the Bible paints of Jesus Christ and his followers is the picture of a bridegroom and his bride (for example Revelation 21:9). The arrival of the Kingdom of God is the marriage feast, when they will be united (Revelation 19:7). The story of David and Abigail is surely a wonderful parable about the attitude we must have if we want to be united with the Lord Jesus Christ in his Kingdom.
Stephan Blake