WHAT DO YOU THINK of people who make promises but don't keep them? God is not like that. He makes promises, and He keeps them. 'God is not man, that he should lie, or a son of man, that he should change his mind. Has he said, and will he not do it? Or has he spoken, and will he not fulfil it?' (Numbers 23:19). Let's consider some promises God has made.
Abraham
Abraham lived in the city of Ur in present day Iraq. God commanded him, '"Go from your country and your kindred and your father's house to the land that I will show you. And I will make of you a great nation, and I will bless you and make your name great, so that you will be a blessing. I will bless those who bless you, and him who dishonours you I will curse, and in you all the families of the earth shall be blessed"' (Genesis 12:1–3).
Abraham obeyed, and the promises were fulfilled. He became the ancestor of a number of nations, including the Jews. It was through the Jews particularly that the promises were and will be fulfilled. The Apostle Paul wrote about those promises, 'And the Scripture, foreseeing that God would justify the Gentiles by faith, preached the gospel beforehand to Abraham, saying, "In you shall all the nations be blessed"' (Galatians 3:8). According to Paul, those promises to Abraham anticipated the Christian Gospel.
When he arrived in the land which God had directed him to, Abraham received another promise from God: 'To your offspring I will give this land' (Genesis 12:7). Notice those two important words, "offspring" and "land". At that time Abraham was an old man and had no children, so God was severely testing his faith.
Concerning the land, Abraham never inherited even a single field. But God repeated the promise with greater emphasis, 'Arise, walk through the length and the breadth of the land, for I will give it to you' (Genesis 13:17). What did God promise? Was it a place in heaven? No! God promised to give him the land under his feet! But Abraham never did receive that land. Two thousand years later the Christian martyr Stephen commented, 'Yet he gave him no inheritance in it, not even a foot's length, but promised to give it to him as a possession and to his offspring after him, though he had no child. (Acts 7:5). Remember this problem, and let's move on.
Twenty years later the promise of a son was fulfilled: Isaac was born. But one day, God gave Abraham another command: 'Take your son, your only son Isaac, whom you love, and go to the land of Moriah, and offer him there as a burnt offering on one of the mountains of which I shall tell you' (Genesis 22:2). What a test of Abraham's faith! But in obedience to God, Abraham prepared to make the sacrifice. At the last moment an angel of God intervened and saved Isaac. Abraham noticed a ram caught in a bush by its horns and he sacrificed that instead.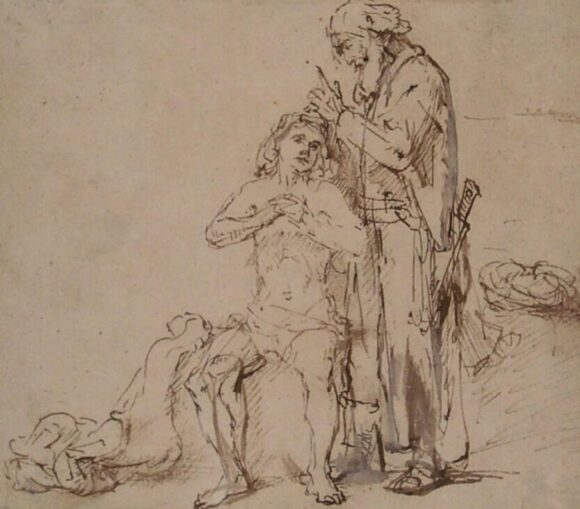 Then God made the greatest promise of all: 'By myself I have sworn, declares the Lord, because you have done this and have not withheld your son, your only son, I will surely bless you, and I will surely multiply your offspring as the stars of heaven and as the sand that is on the seashore. And your offspring shall possess the gate of his enemies, and in your offspring shall all the nations of the earth be blessed, because you have obeyed my voice (Genesis 22:15–18).

Perhaps the full depth of these words does not strike us immediately, but we have the inspired words of Paul to guide us:
Abraham "believed God, and it was counted to him as righteousness"… Know then that it is those of faith who are the sons of Abraham… It does not say, "And to offsprings", referring to many, but referring to one, "And to your offspring", who is Christ… for in Christ Jesus you are all sons of God, through faith. For as many of you as were baptized into Christ have put on Christ… And if you are Christ's, then you are Abraham's offspring, heirs according to promise (Galatians 3:6–29).
The promise of a descendant, therefore, was only partly fulfilled with the birth of Isaac; the promise was fully fulfilled with the birth of Jesus, and through him great blessings have come to us all—the blessings of unity with God and of the forgiveness of sin. Jesus himself is the promised "descendant".
But God promised that this descendant would 'possess the gate of his enemies' (Genesis 22:17). What do those words mean? In the language of the time, if one king defeated another king in battle he would take possession of that king's city. To show his possession of the city he would sit in its gate. Abraham's descendant would defeat his enemies. Well, the 'enemies' defeated by Jesus were the greatest enemies of all—temptation, sin and death. As Paul explains in another place, 'As one trespass led to condemnation for all men, so one act of righteousness leads to justification and life for all men. For as by the one man's disobedience the many were made sinners, so by the one man's obedience the many will be made righteous (Romans 5:18–19). If we belong to Jesus Christ, the obedient Son of God, we are no longer condemned for the disobedience of our ancestor Adam.
But there is another important point. Remember the problem: Abraham believed that God would fulfil His promises and give him the land, but he never received it. So when will Abraham receive this promise? Of course, in the day of resurrection, Jesus will establish the Kingdom of God and Jerusalem will be its capital city; then, and only then, will Abraham receive the land (Matthew 8:11). By his faith Abraham honoured God. All those who trust God honour Him and their faith will be counted as righteousness (Romans 4:18–25).
David and Mary
God made promises to other faithful people, building upon the promises He made to Abraham, all of them looking forward to the descendant who was to come. God said this to King David:
When your days are fulfilled and you lie down with your fathers, I will raise up your offspring after you, who shall come from your body, and I will establish his kingdom. He shall build a house for my name, and I will establish the throne of his kingdom for ever. I will be to him a father, and he shall be to me a son (2 Samuel 7:12–14).
And these promises were brought into sharp relief when the Angel Gabriel announced to Mary that she was going to have a son:
You will conceive in your womb and bear a son, and you shall call his name Jesus. He will be great and will be called the Son of the Most High. And the Lord God will give to him the throne of his father David, and he will reign over the house of Jacob for ever, and of his kingdom there will be no end" (Luke 1:31–33).
It is wonderful to see how the Bible's message fits together. To Abraham God promised the land and a descendant who would bring great blessings. To David a thousand years later He promised a descendant who would rule for ever on his throne. And after another thousand years, He revealed to Mary that her son would fulfil all these promises.
Abraham, David, Mary and all the faithful men and women of old still lie sleeping in their graves. They are waiting for the time when those promises will be fulfilled—to them, and to us as well if we want to be part of them. 'All these, though commended through their faith, did not receive what was promised, since God had provided something better for us, that apart from us they should not be made perfect' (Hebrews 11:39–40).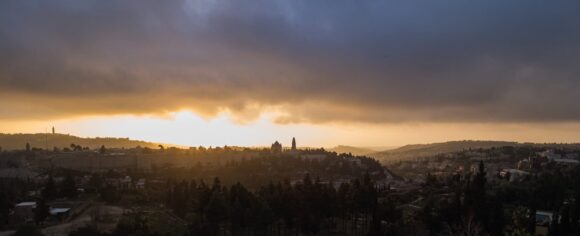 David Budden