THERE ARE JUST TWO occasions in the Gospels on which we're told that Jesus Christ wept.
The first is recorded in John chapter 11. Lazarus, a close friend, had died, and Jesus went to meet his grieving family. He could have gone earlier and healed Lazarus of his disease. But he deliberately waited till Lazarus had died, then went with the purpose of raising him back to life: 'Our friend Lazarus has fallen asleep, but I go to awaken him' (John 11:11). In this episode the Lord was teaching profound lessons about his mission to the world: 'I am the resurrection and the life' (v. 25). He is the Lord of life, and death has no power over those who are his.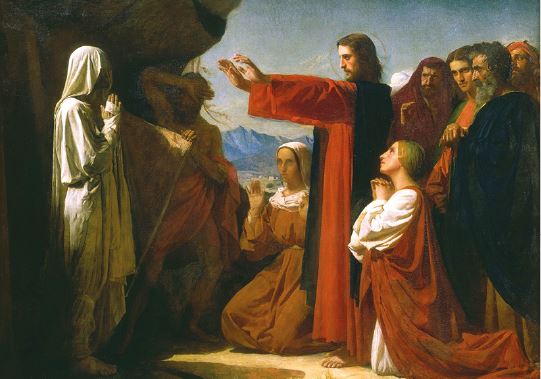 As they approached the village of Bethany, Lazarus's two distraught sisters came out to meet them. Jesus and his disciples were escorted to the tomb by the mourners. He knew what he was going to do, he was about to turn their distress into rejoicing —but when they came to the tomb, 'Jesus wept' (v. 35). Why did he weep?
The other occasion was a short while later, as he rode into Jerusalem the week before he died. Again he was surrounded by people, but this time was very different: 'As he was drawing near—already on the way down the Mount of Olives—the whole multitude of his disciples began to rejoice and praise God with a loud voice for all the mighty works that they had seen, saying, "Blessed is the King who comes in the name of the Lord! Peace in heaven and glory in the highest!"' (Luke 19:37–38).
There is a point on the hilly descent from the Mount of Olives where you suddenly see Jerusalem spread out before you. It would have been a beautiful sight in the afternoon sun, the stone city surmounted by its enormous marble and gold temple glinting like a snow-capped mountain.
And when he drew near and saw the city, he wept over it, saying, "Would that you, even you, had known on this day the things that make for peace! But now they are hidden from your eyes. For the days will come upon you, when your enemies will set up a barricade round you and surround you and hem you in on every side and tear you down to the ground, you and your children within you" (vs. 41–44).
Surrounded this time by deliriously shouting crowds of adoring pilgrims, he wept again as he saw the future of the city before him: 40 years later it would be besieged and destroyed by the Roman Legions.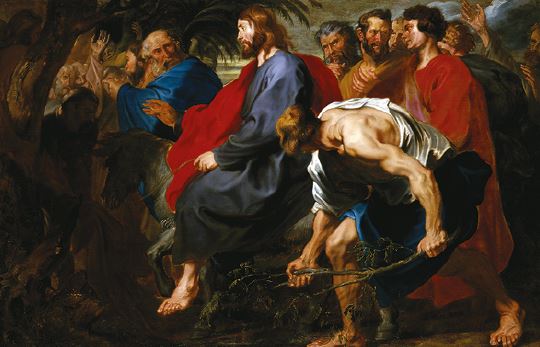 Two occasions on which we see Jesus weeping: in Bethany, at the sight of the mourners helpless before the misery of mortality, and on the Jerusalem road at the prospect of the catastrophe of ad70. Jesus Christ was a man who was thoroughly, intimately, passionately involved with the plight of his people.
A Life of Sorrow
The Lord's short life on earth was filled with hardship and pain, and the Gospels record graphically how it ended with the horrific death of crucifixion. Why did he go through it? The prophet Isaiah tells us: 'He was despised and rejected by men; a man of sorrows, and acquainted with grief; and as one from whom men hide their faces he was despised, and we esteemed him not. Surely he has borne our griefs and carried our sorrows; yet we esteemed him stricken, smitten by God, and afflicted' (Isaiah 53:3–4). He lived and died 'to save his people from their sins' (Matthew 1:21).
Jesus' death and resurrection broke the hold of death on the human race. The Bible tells us that he is now in heaven and will return to establish God's kingdom. At that time the mourning of death will be turned to rejoicing, and Jerusalem will ring again to the triumphant cry: 'Blessed is the King who comes in the name of the Lord!'
In the meantime he is the High Priest who brings the prayers of his people to God: 'Who is to condemn? Christ Jesus is the one who died—more than that, who was raised— who is at the right hand of God, who indeed is interceding for us (Romans 8:34). As they wait and prepare for his return, Christ's disciples are assured by his words to his disciples before he left them to go to heaven: 'Behold, I am with you always, to the end of the age' (Matthew 28:20). He is as interested and involved in their lives now as he ever was.
'I am With You'
The Apostle Paul recalled his trial before Caesar: 'At my first defence no one came to stand by me, but all deserted me. May it not be charged against them! But the Lord stood by me and strengthened me' (2 Timothy 4:16–17).
Whether or not he actually saw his Lord standing by him, he knew he was there. Jesus who himself had been deserted by his friends and stood trial alone, was involved with Paul in his ordeal. If you are Christ's disciple, you know that he is passionately interested in you. He gave his life for you. He shares your joys and your sorrows. He is with you 'to the end of the age'.