REJOICE IN THE LORD ALWAYS; again I will say, Rejoice (Philippians 4:4).
Fine words, you might say. They sound like the words of someone who doesn't have much to worry about. But those are not empty words. They were written by the Apostle Paul, and I think they would have raised broad smiles as that letter was read out for the first time to the Christian congregation in the Greek town of Philippi.
The congregation had been founded around ten years previously, by a group of missionaries including Paul himself. The account is in Acts chapter 16.
The missionaries stopped in Philippi and preached. As was always the case, there were those who responded to their preaching, and those who resisted it. Before long Paul, and Silas his companion, were arrested as trouble-makers. They were stripped, flogged and thrown into jail, and the jailor was given stern instructions to take no chances with them. He put them in the innermost dungeon and fastened their feet in stocks.
Wounded, bleeding and abused, that night the prisoners sang hymns of praise to God!
The account continues: an earthquake shook the prison, opened the doors and loosed the prisoners' shackles; the jailor came to investigate and saw the doors open and drew his sword to kill himself, but Paul shouted out of the prison to reassure him that none of the prisoners had escaped.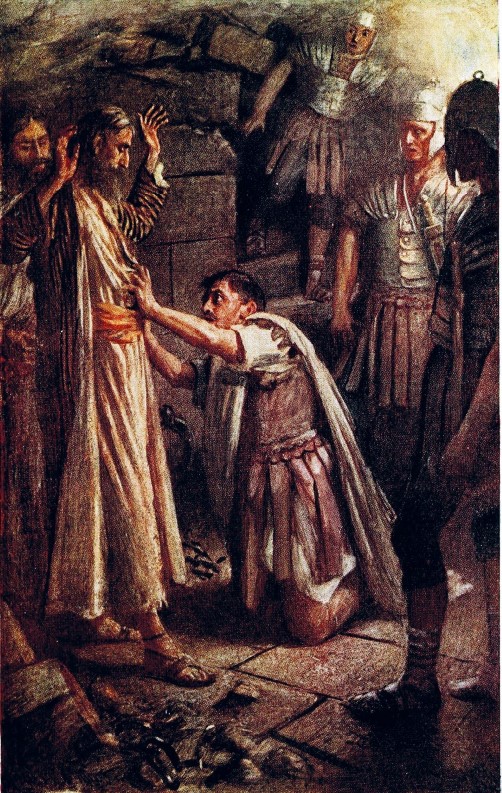 The jailor promptly brought Paul and Silas out of the prison and dressed their wounds. He heard their preaching gladly and was baptised, and became a founder member of the Philippian church. Certainly he would always remember Paul's example that night. When others might have given in to self-pity and bitterness, Paul rejoiced.
A Difficult Life
When Paul wrote this letter he was again in prison (Philippians 1:12–14). And when you read of his exploits in the book of Acts, you see how difficult, stressful and dangerous was his life. He lists some of his ordeals in 2 Corinthians 11:22–28: he was imprisoned, whipped, beaten and stoned; he was shipwrecked three times; he was frequently in danger from the authorities as well as criminals; he suffered lack of sleep, lack of food and exposure; and pressing on him all the while was his anxiety for his brothers and sisters in the faith. You might well ask, what was it that made him so happy?
Here's the context to the verse we started with:
Rejoice in the Lord always; again I will say, Rejoice. Let your reasonableness be known to everyone. The Lord is at hand; do not be anxious about anything, but in everything by prayer and supplication with thanksgiving let your requests be made known to God. And the peace of God, which surpasses all understanding, will guard your hearts and your minds in Christ Jesus (Philippians 4:4–7).
When Paul says 'Rejoice', he is not saying that if you have been baptised and belong to the Lord your life will automatically be joyful. Rather, it is an instruction. Whatever your situation, in the good times and the bad times, even when you really don't feel that you have anything to be happy about—rejoice! Make it a habit. Do it always. Live with the awareness of what it means to belong to the Lord, who said to his followers 'Fear not, little flock, for it is your Father's good pleasure to give you the kingdom' (Luke 12:32). Remind yourself of that, frequently—what could there possibly be to be more happy about?
Paul continues, 'Let your reasonableness be known to everyone.' That word 'reason- ableness' means moderation, fairness, patience, gentleness. He is building up a picture of the mindset of the Christian. Let joy be your default setting. Be reasonable and patient in all circumstances. Let your friends, colleagues and neighbours know you as that kind of person.
He continues, 'The Lord is at hand'. No one knows the day or the hour when Christ will return (Matthew 24:36), so it makes sense to live each day as though it is your last.
'Do not be anxious about anything.' That is a huge instruction! Anxiety is a part of everyday life for most of us. Why not? In this day and age we have a lot to be anxious about. How can Paul say 'Do not be anxious'? He explains—take your anxieties in prayer to God.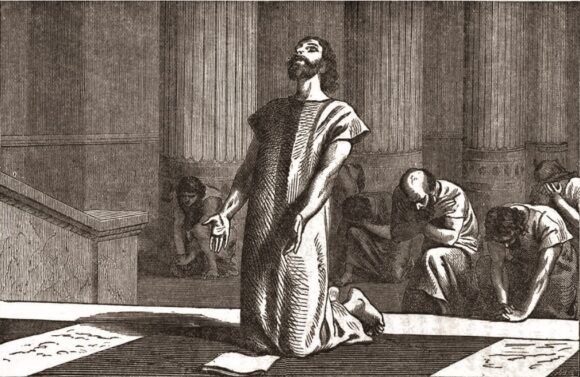 'Cast your burden on the Lord, and he will sustain you' (Psalm 55:22). When King Hezekiah received a letter from the King of Assyria promising to destroy him, he spread the letter out in the Temple before God; God then took the matter in hand, and sorted out the situation (2 Kings 19:14–37). This is the solution to anxiety.
Note the detail in what Paul says: 'In everything by prayer and supplication with thanksgiving let your requests be made known to God.' If you're anxious about something, don't just ask for help— give thanks as well. Remember all the things God has given you, and you will be encouraged to know that He will look after you.
When this is your mindset, Paul says, its result will be 'the peace of God which surpasses all understanding'. The world around us has many recipes for achieving peace of mind. There are none that are anything like this one.